How to Get Laid in the Dominican Republic
If you're thinking about how to get laid in the Dominican Republic, you're not alone. In fact, many a man has thought the exact same thing. There's something about Dominicanas that brings out the passion in a man.
It could be the thick hips, the massive busts, or the silky smooth and creamy, caramel skin. Not to mention the fun-loving and flirty personalities. It's easy to see why men around the world love them some Dominican girls.
For such a small island, the Dominican Republic produces way more sexy women that it should. Why is that? Well, there's a combination of factors. That's neither here nor there.
You're here because you want to know exactly how to get laid in the Dominican Republic. You want to make sweet sexy time with thick Dominican women that look like they should be in an early-2000s rap music video.
You want that tanned Afro-Latina skin and those big brown eyes looking right up at you. Shit, you probably want that big, fat Dominican ass en cuarto in your hotel room moaning "Sigueeee, Papiiii!" all night long.
I know I did.
That's why I'm writing this detailed guide on everything you need to know to date women in this tropical paradise. Things like…
---
---
Just click any of the links above to be sent directly to the section you're most interested in.
This guide is nearly 4,000 words of pure knowledge for foreign men visiting the Dominican Republic.
So unless there's a specific you're interested in, it's best to take some time and truly learn how to meet women in this country. Because Dominicanas are like nothing else around 😉

What Are Dominican Girls Like?
Before we talk about how to get some sex in the Dominican Republic, let's dive into what Dominican girls are like. Physically, the girls really do look like they should be in a rap video. Dominicanas are known to have mixed skin tones.
You'll find white girls in the Dominican Republic that look like they could be from Romania or Bulgaria. You'll also find girls so dark that you'd think they're from Haiti or Nigeria. Most women in the Dominican Republic fall somewhere in between.
The average girl here has caramel skin or maybe it's more "cafe con leche" colored. The girls here are lighter than what you'd label a black girl in the U.S. or the U.K. Yet, they're a little darker than a mixed girl who is half-white and half-black.
The difference in skin tones has a lot to do with the Indian mixes here. There's not just European and African genes here. You'll also find a lot of native Indian blood. The combination of the three tends to produce amazing looking women with unique skin colors.
The best part about the looks of Dominican women? Their bodies! Dominican girls have the best curves anywhere in the world. Fuck Brazil. Colombia can't even compete. If you want giant natural breasts and wide hips on skinny girls, then the Dominican Republic is the country for you.
Many have said it before and I'll say it, again. The girls in the DR have the biggest natural boobs of any country in the whole world. If you're a chest man, then the Dominican Republic will not disappoint. This I promise you.
Understanding Dominican Women
What do Dominicanas look for in a man? What do Dominican girls like and love? That's a bit hard to generalize, but we'll give it a shot. First, you need to understand Dominican culture a bit. Dating in the Dominican Republic works a little differently than in the United States or Europe.
You need to know that the Dominican Republic is a poor country. Education levels aren't great, especially when you get out of the major cities. This means women will be attracted to money, status, and things of that nature.
Displays of wealth are important in Dominican Culture, especially when trying to sleep with the best looking Dominican women. The nicer your apartment, hotel, or car the easier it will be to get laid in the Dominican Republic. That's just how things go here.
Skin color also plays a role, too. While I hate to say it, lighter skin is attractive to many women in the DR. As many upper-class Dominicans have European features, many women in the DR associate lighter skin with status and money.
While skin color can be important, being a foreigner of any race is helpful. A black guy from the U.S. will kill it in the same way a German guy will. In fact, many Dominicanas actually far prefer black guys. So don't think your skin color will hurt you too much either way.

Do You Need to Speak Spanish in the DR?
Speaking Spanish in the Dominican Republic is important. You certainly don't have to speak Spanish if you're coming to Santo Domingo for a few weeks and using online dating to meet women. You'll meet dozens of girls on Dominican Cupid that will speak English well enough to chat with you online and on a date.
If you want to meet girls who don't exclusively meet foreigners than you'll want to learn some Spanish. If you plan to spend more than a few weeks in the DR, then it's a great idea to learn some Spanish, again.
Learning some Spanish isn't too difficult any longer. If you can't even mutter anything past "hola" then you'll want to start with a program like this course.
This course will take you from nothing to having full conversations in Spanish with just three months of study. All you have to do is study the program 30 minutes a day. It's pretty easy and damn effective!
For guys who speak a little Spanish, but just need to learn how to flirt in the love language, I recommend a course called Pickup Spanish. This program teaches you how to be as suave as a foreigner can be while speaking Dominican Spanish. If you're looking to get a Dominican girlfriend, this course will also teach you how to properly "manage" the girls here while speaking their native tongue.
Speaking of Dominican Spanish, it's pretty difficult to understand. If you've never spoken Spanish before, you'll be pretty confused hearing a couple Dominicans talk amongst themselves. The people here talk in slang a lot and the pace is fast.
You're better off learning a little Spanish before you come or you're bound to be confused as can be by this weird dialect. If you want to know a few Spanish lines to drop on girls, this is my favorite:
Mi amor, tengo ganas para hacer el amor con una chapiadora como tu.
That was a joke. Seriously.
Don't ever say that. No Dominican girl will appreciate it. You might get slapped in the face.

How to Get Laid in the Dominican Republic
This is why you came here. You want to meet some sexy Dominican girl and have sex in the Dominican Republic. You want to know how to get laid in the Dominican Republic. I was once just like you. I figured it out the hard way, literally and figuratively. If you know what I'm saying.
The good news is I figured out the easiest ways to get women in the DR. My methods are ruthlessly effective and sure to have more women in your bed than ever before. All you have to do is follow this advice and execute. It's that simple.
---
~ Where to Stay? ~
---
Before you have some sex in the Dominican Republic, you need to know where to go and where to stay. Overall, the vast majority of tourists and travelers in the DR, will end up in one of the four following places:
If how to get laid in the Dominican Republic is your primary concern, then the best city to stay in is the capital, Santo Domingo. Santo Domingo is more than twice as big as any other city in the country. You'll find more Dominican girls looking to meet foreigners here than anywhere else on the whole island.
No matter where you go in the DR, you'll have to decide on your accommodation. Hostels aren't popular in the Dominican Republic. The country isn't on a backpacker trail, so this form of accommodation isn't popular. The only place you'll find hostels is in Zona Colonial.
This leaves resorts, hotels, and Airbnb apartments. Most hotels in the DR won't have much issue with you bringing a girl back to your room. You should always verify the rules with the hotel before booking, but you should have any issues. Just make sure you always:
Always book your hotel room for two people in the Dominican Republic.
This should help you avoid most issues when bringing girls back to your hotel, as you've already paid for another guest. If you don't speak Spanish, things can get confusing in the DR when bringing guests, but it shouldn't be too much of an issue.
Airbnb apartments tend to be a better option if you're staying for a week or more in Santo Domingo or Santiago. You'll get a nicer place at a cheaper price. You'll also be able to verify with the host if guests are ok or not. You shouldn't have any issues bringing girls back to a private apartment that you rented.
You won't be able to bring girls back to most resorts in Punta Cana or Puerto Plata. If you want to stay at the resort and still get girls, you'll need to book a second accommodation off the premises.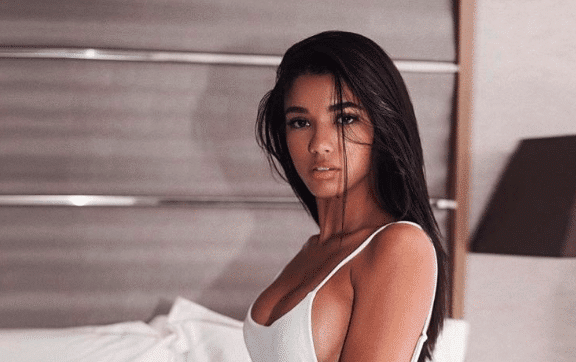 ---
~ Online Dating in the Dominican Republic ~
---
The best way to get laid in the Dominican Republic is online dating. By using online dating, you can have dozens of women in the DR aching to meet you before you even get on the plane. You won't believe how effective online dating in the Dominican Republic is.
I've never seen more women use online dating than in the Dominican Republic. Even in small cities like San Pedro, there are 500+ young girls using online dating apps and sites every single month.
In the capital, you'll find thousands of girls using apps and sites every single day. It's truly mental! You can have a new date or two every single day in Santo Domingo if you're willing to use all the online dating sites and apps available to you.
The women who use online dating in the DR range from absolutely hideous to truly stunning. You'll find virgins, gold diggers, hookers, and great girls that would make the perfect Dominican girlfriend. The spectrum you'll find using online dating here is truly baffling. There's a ton of gems, but you'll find some rift raft, too.
One thing to note: If you don't speak Spanish, you'll definitely need to use all the dating apps and sites you can if you want to get laid in the DR. There's lots of English speaking girls on the sites and apps below.
Here are the best online dating sites in the Dominican Republic:
If you're looking to get laid in the Dominican Republic, then buying a Dominican Cupid membership is a no-brainer! I honestly thought it was fake the first time I logged in. I couldn't believe there were over 1,000+ Santo Domingo girls active every single week. In my mind, I figured all the profiles were fakes and scams.
Still, I was so intrigued that I ponied up a few bucks and started messaging girls. They immediately started responding. Dozens of Dominican women were anxiously responding to all my messages. They all wanted to know when I arrived and how long I was staying. The questions kept coming and coming. I felt like a rockstar.
Now, it may seem like I'm hyping here. I'm not. My second day in the Dominican Republic a stunning girl from San Fransisco, DR came to visit me in Santo Domingo. We met on Dominican Cupid. She spoke zero words of English, but had to see me.
She hopped out of her cab and I shit you not, she looked like a ghetto version of Jennifer Lopez. Her skin was one shade darker, her hips just a tad wider, and she had braces. She was fucking beautiful. My jaw literally hit the floor when she walked up to me.
I had no idea because of my Spanish ability, but she planned to spend the night. She had her luggage with her. We walked her luggage up to my place and we were fucking like animals within 10 minutes. I'll never forget her giant ass propped up with her tiny little waist below. Dios Mio!!
This Dominican Cupid girl stayed with me for three days and two nights. She never once asked for money, although I did buy her food. We took photos around Zona Colonial and fucked the whole time. It was amazing, and it only happened because of Dominican Cupid.
This certainly wasn't the only girl I met through the site. If you're looking to meet women in the Dominican Republic and you only have a short trip (less than a month), you'll 100% want to use Dominican Cupid. The site actually works and you will meet good looking Dominicanas – if you use it.


Tinder in the Dominican Republic works pretty well, too. You won't find as many girls on Tinder as you will on Dominican Cupid, but there's still a good amount. This is especially true in cities like Santo Domingo and Santiago de Los Caballeros. Not many girls use Tinder in small Dominican towns and cities.
The Tinder girls in the DR will be a little different than other women in the country. Most of the girls on Tinder here will have an interest in foreigners. They'll often be educated and speak decent English. Many of these girls will have met many foreigners before you and will meet many after. Tinder in Santo Domingo is full of gringo hunters.
I use the app while in the DR because it's a great place to start if you don't speak much Spanish. Overall, I had great luck with the app. I'd say it's a close second to Dominican Cupid. I just prefer Dominican Cupid because the girls I actually really enjoyed spending time with while in the country were often found on that site.
The Tinder girls I met in the DR where fun and wild, but I never wanted to date them. They were a bit too Americanized for my tastes, as many had family in New York and took trips there every single year.
While the amount of women on Dominican Cupid is shocking, you'll find even more on Badoo. Badoo was the original online dating site in the Dominican Republic. Thousands of people in the country still use it, even if it's outdated.
You can line up dates every single day using Badoo in Santo Domingo. The app also has many users in small towns like Monte Cristi and Barahona. In a pinch, you'll be able to meet women using Badoo in almost every city in the Dominican Republic.
Should you? I wouldn't recommend it. Sadly, the girls using Badoo in the DR will be of the poorer variety. You'll probably run into a few chapiadoras and some hookers. You'll probably run across a tranny. Overall, the cons far outweigh the positives of using Badoo in the Dominican.
There are girls using Badoo, but I believe you're better off using other sites and apps.
If you plan to stay in the Dominican Republic for more than a month or plan to spend a good amount of time in smaller cities, then buying a Latin American Cupid membership could be a great idea. I've used the site many times in the DR and had great success.
You'll find about 20% fewer women use LAC than they do Dominican Cupid, but around 75% of the girls on Latin American Cupid don't have a Dominican Cupid account. What does that all mean?
Basically, if there are 1,000 active girls on Dominican Cupid in your preferred city, then there will be 800 on Latin American Cupid and 600 of these girls will only be using LAC. Basically, you'll be able to message 600+ new girls using the site on top of Dominican Cupid.
So, LAC offers traveling players a ton of extra options in the Dominican Republic. Also, there's less foreign competition here than on Dominican Cupid. You'll stand out way more here than you would on other sites.
Still, Dominican Cupid is the bread and butter of online dating in the DR. Use Latin American Cupid if you plan to stay awhile and want more options. Or use the site if you plan to hit small towns. Sign up here.
---
~ Nightlife in the Dominican Republic ~
---
Nightlife in the Dominican Republic is fairly city specific. You'll find that the partying here is a little bit weird outside the big cities. In small Dominican Republic cities and towns, a lot of the nightlife solely revolves around the Malecon area bars and car washes. Yes, there are bars at car washes here. It's a bit odd.
In Santo Domingo and Punta Cana, you can find all types of music. You'll find electronic music and even hip-hop in some spots. In most Dominican nightclubs and bars, there are only a few music styles that get played. These include:
Bachata
Merengue
Reggaeton
Dembow
If you know anything about Latin music, you know that all the music types above require people to dance. Nightlife in the Dominican Republic is all about dancing. The better you can dance the more likely you'll end up in her pants.
It's common to take dates out to nice discos in Santo Domingo and Santiago. While you can hit on women while you're out, the hottest girls almost always have a date at the clubs. That's just the way things go in the DR.
Whether you have a date or not, you should expect to buy a bottle at the club in the Dominican Republic. Outside a few tourist spots in Zona Colonial and Punta Cana, the man will be expected to buy a bottle of rum for $25-50. This rings true whether you have a date or are picking up women.
One night stands aren't super common in the DR. It's far more common to get phone numbers and then take a girl out on a date. You can get a one night stand here, but the best looking girls will almost always require you to take them out for drinks after meeting. That's just part of getting laid in the Dominican Republic.
For more information on Dominican Republic nightlife, check out these posts:
---
~ Day Game in the Dominican Republic ~
---
You'll be surprised how well meeting women during the day works in the DR. People even flirt and hit on each other in Dominican gyms. It's just part of the culture to be direct and flirt with whoever you want to, whenever you want to.
On top of that, Dominican women will make it well known when they want to speak with you. It's not uncommon for a girl in the DR to make eye contact with you and hold it for way too long. It's almost like she's teasing you to see if you're man enough to come and say hi to her.
To meet Dominican girls in the daytime, you'll have to do some research and find the best place to hit on women. It will vary from city to city. Typically, the best places will either be at the mall or around a large university. Both these areas tend to have a ton of good-looking young girls walking around all the time.
For example, in Santo Domingo, your best day game spots include:
Agora Mall
Universidad Autónoma de Santo Domingo
If you walk around either one of these places in the afternoon, you'll likely see dozens of hot Dominicanas every hour or so. I've had buddies who spent their whole first week at malls around Santo Domingo and ended up dating some of the hottest girls I've seen in the Dominican Republic. You'll probably need to speak Spanish if you want to day game in the DR.


Dating in the Dominican Republic
The dating culture in the Dominican Republic isn't too difficult to navigate, except for the chapiadoras. Girls don't play too many games here. If she likes you, she will sleep with you within the first 1-3 dates unless she's a virgin.
Having sex on a first date is pretty common here, too. If you meet a girl on Dominican Cupid or on Tinder, then she's likely met other foreigners and probably had sex on the first or second date. That's just how things go here.
If a girl is being weird about coming to your hotel or apartment after the second date, then something is up. She's either a truly good girl or a virgin. If she's not one of these two things, then she may be interested in a foreigner for their money and not for your personality or looks.
Dominican girls are very sexual, but they do not like to be treated like sluts or hookers. You'll have to walk a tightrope here until you get laid. Keep the subjects light and flirty. Don't go overly sexual here until you've had sex with a girl.
To get a girl back to your apartment on the first, second, or third date, you'll need an excuse in the Dominican Republic. You need to give her an excuse to come back to your place and have sex. Here's what works every single time:
Quieres ir a mi hotel para tomar algo mas? Quiero aprender bachata pero estoy un poco timido y no quiero bailar horrible en publico. Me ayduas aprender?
Yes, I know that's not perfect Spanish. That's part of the charm. This asks the girl if she wants to go back to your place and have another drink. Then you say that you want to learn how to dance bachata, but you're a little shy about dancing badly in public. Then you ask if she'll help you learn.
I've yet to be rejected using the line above. You're giving her tons of mental excuses to come to your place. It's also great to get laid as you'll be dancing and drinking more. Both of these things make getting laid in the Dominican Republic much easier.
---
---
How to Get Laid in the Dominican Republic – GUARANTEED!
Using the outline above, most guys should be able to get laid in the Dominican Republic within one or two weeks.
Some guys might get laid their first night in the country if they're talking to a bunch of women using online dating before they go.
The Dominican Republic is an amazing place and you'll get some sex here if you put in the effort. Just follow the tips and tricks above, sign up for Dominican Cupid, and talk to as many Dominican girls as you possibly can before arriving.


(Visited 1,926 times, 7 visits today)
About the Author
Living and traveling around Latin America, Papi Chulo learned a thing or two about dating stunning Latinas. Now, he's sharing that information with the world. If you've ever wanted to meet stunning, exotic women - the time is now!