How to Get Laid in Punta Cana, Dominican Republic

If you're curious how to get laid in Punta Cana, you've come to the right place. In fact, you won't find this information anywhere else online. I'm talking about how to get some sex in Punta Cana – without paying for it.
Keywords: Without paying for it!
Punta Cana is a stunning resort town in the Dominican Republic. Many people come here for vacation, to get married, or to simply enjoy the beaches. But, others come to enjoy the amazing beaches, weather, and…Dominican women.
---
P.S: Easiest way to meet girls in Punta Cana? Just click right here!
---
If that's you, keep reading. Sexy Punta Cana girls are waiting for you. You'll find everything you need to know about how to get laid in Punta Cana below.
I detailed everything anyone could ever want to know about making love in the tropical paradise known as Punta Cana.
In this guide, you'll find information about things like:
---
---
Dating Dominican Ratings
–> Looks of Punta Girls: 3.75/5
–> How Easy Are Punta Girls: 3.75/5
–> Punta Cana Overall: 4/5
---
---
Breaking Down Punta Cana
Populations: Officially around 50,000-100,000 people actually live in Punta Cana. It depends on the source. However, that number is not even close to accurate. With thousands of tourists in the city each week plus the neighboring cities, you can expect 400,000+ within the metro area – in my opinion. 
Costs: Staying at a resort will be expensive. Staying in a local style apartment a few miles from the beach will be cheap. Hotels can range from $35-300 USD a night. You could spend less than $750 a month on accommodation here with a little planning. 
Safety: Overall, Punta Cana is quite safe. The town makes all its money off tourism. As such, tourists are rarely attacked or victims of violent crime. While rare, certain items can get stolen from your hotel room if you're not careful. 
Climate: Hot. Hot. Hot. This is a beach town. Expect to wear beach clothing here. 80-90s is pretty typical here. 
Tourism: The beach. Punta Cana is one of the premier resort destinations in the world. The beaches here can be truly pristine. 
---
What Do Punta Cana Girls Look Like?
Here's the thing about Punta Cana…
There are some Dominican girls in the area, but you'll also find chicks from all over the world here, too. As such, it's hard to put a finger on where the girls look like exactly. I'll try to break down what you can find.
The local girls from La Altagracia and Higuey look like typical Dominican women. You can find all types of skin tones here along with amazing bodies due to being by the beach. These women are fairly attractive, but many have a bad taste in their mouths from tourists of the past.
Then you have Dominican girls from other parts of the island. You have to be careful with these girls because some of them are prostitutes. However, you also have many upper-class Dominicans who come to work or vacation in Punta Cana. After all, this is where the money is. Often, these girls will speak good English if they're working in tourism.
Next, you have girls from other countries working in Punta Cana. Often, these girls will be from other Latin countries that don't have a nice of beaches. Usually, these girls will speak decent English, too. While there aren't a ton of them, I met quite a few girls from Argentina and Chile in Punta Cana.
Lastly, you have tourists chicks. While you'll meet some more Latin tourist girls, most of these chicks will be white. Punta Cana is hugely popular among Americans and Canadians as a resort destination. There's also a solid contingent of European and Russian girls here.
---
Where to Stay in Punta Cana, Dominican Republic?
95% of people that go to Punta Cana stay on a resort for a week and then leave. Most resorts do not allow guests to come on the resort. They may sell you a day pass, but those usually cost around $50-70 USD and only allow you to have a guest stay until certain hours.
My point? If you want to get laid in Punta Cana without paying for it, a resort may not be the best place. 
Sure, you may get lucky and meet some women on a girls trip. Or you could meet a girl traveling alone with her parents for the week. However, neither of these things are guaranteed. You'll need a little luck if your strategy revolves around meeting women at the resort.
The solution? Get a place away from the resort. I've even met guys who were on a resort with family or friends, but rented an apartment to bring girls to – if they needed it.
If you want to get some sex in Punta Cana, look for a freestanding hotel or Airbnb apartment that is located as close to Bavaro Hostel as possible. Bavaro Hostel is in the middle of a tiny neighborhood right by the beach.
The area has bars, restaurants, a supermarket, and a gym. Everything you could need is right here.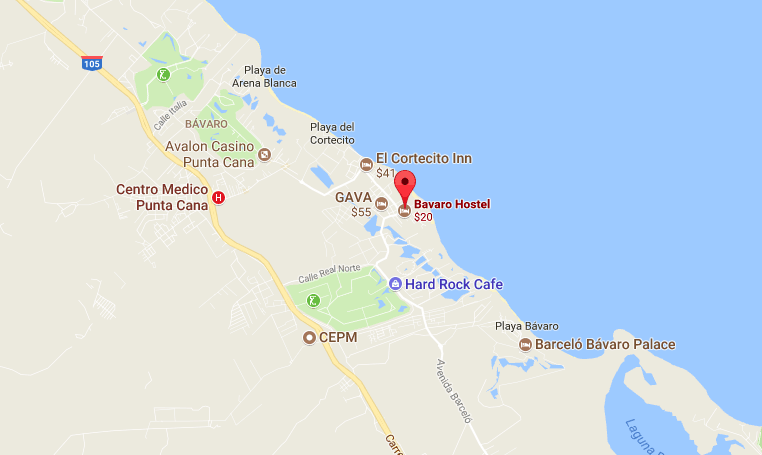 Ideally, you have a place right on the beach with a pool and no pain-in-the-ass security guards right near Bavaro Hostel. This will give you a good chance to get laid in Punta Cana.
There are other options, but this play yields the best possible results. If you want a guarantee, this is the best logistics you'll find in Punta Cana.
If you must bring a girl back to the resort, try taking your wristband off and then asking the hotel for a new one. Keep the old one in your pocket when you go out. If you have a girl, help her attach it to her wrist and then bring her back. Don't try this with a local girl unless she speaks near fluent English.
Here's a few of my top girl-friendly hotels in Punta Cana:
Tropicana Suites Deluxe Beach Club: Ideal location right next to the beach and a bunch of bars, you'll easily be able to meet women around this area. It's about as central as Punta Cana gets. Plus, the hotel is amazing, the pool perfect for chilling with a girl, and there's even a restaurant on site. It's like a resort, but it's not. Make sure to book for two people, so you can ensure any girl will be able to get in.
Art Villa Dominicana: I'm a huge fan of this spot. Located next to a bunch of bars and date spots, while being just a five minute walk from the beach, Art Villa Dominicana offers cheap and nice rooms. AC, wifi, and balcony views tend to come standard. It's Punta Cana, so make sure to book for two adults if you plan to bring girls back. But you shouldn't have any issues here, as this is a small boutique hotel.
Riviera Punta Cana Eco Travelers: Another reasonably priced eco-hotel right next to the beach and bars, this place is ideal for travelers on a budget. Book for two and you'll have zero issues bringing girls back to this small eco-hotel. Highly recommended.
---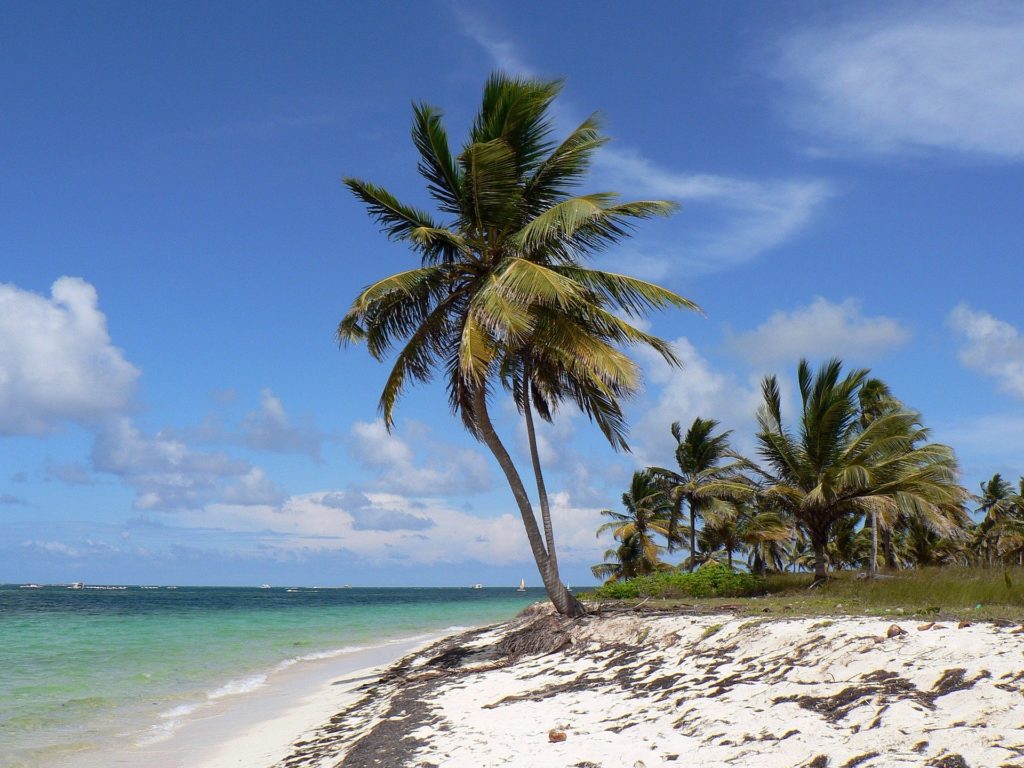 ---
Sex in Punta Cana | Is It Difficult?
Honestly, there are easier places to get laid in the world, especially in the Dominican Republic. Punta Cana can be easy, but it's not a cakewalk.
In fact, unless you're young and in decent shape or speak great Spanish, I wouldn't recommend the place for meeting Dominican girls.
If you're younger, look decent, and speak some Spanish – you could carve out a nice, little niche here. You'll have to put in an effort, make local contacts, and spend a little time, but it's doable.
The easiest girls will be the independent travelers. Usually, this means white chicks from the US, Canada, and Europe. They'll often stay in a hostel, hotel, or Airbnb to keep their budget down. Maybe they're just coming to Punta Cana for a few weeks of the beach.
Upper-class Dominican girls working in Punta Cana are pretty easy, too. You just have to let them know you'll be in Punta Cana for more than a week and able to do something outside a resort. Many of these women make good money and just want to have fun. However, there's only so many of them.
Local Dominican chicks can be tougher here than in other places due to their reputations. You'll need a little Spanish to nab a local, good girl in Punta Cana. You'll also have to prove that you're not like the other of travelers passing through.
As you can see, sex in Punta Cana offers a number of obstacles, but it's doable.
---
How to Get Laid in Punta Cana
Now, to the good stuff. How to make it happen. How to get laid in Punta Cana. It's not the easiest place in the world to get laid, but you should meet some solid women with a little effort and time.
While this method isn't a guarantee, it should work well enough:
Online Dating in Punta Cana
You'll need online dating to get laid in Punta Cana. While online dating isn't great here, you should be able to line up a few dates each week. I suggest using these sites:
To get some tourist chicks, you'll definitely want to use Tinder. Upper-class chicks who work in Punta Cana also use Tinder. Traveling Dominicans may use the app, while many of the working girls from other Latin countries do, too.
I'd say Tinder is the most reliable way to get sex in Punta Cana, but there aren't that many girls to swipe. Meet girls at the beach and then take them for drinks. It's pretty simple if you can get them to show up.
I didn't find many local Dominican girls on the app.
If you want local Dominican women in Punta Cana, then the best place to start is Dominican Cupid. Here you'll find over 300+ Punta Cana girls active every single month between the ages of 18-35. That's a lot of prospects.
Most of these girls will live in a town about 20 minutes away from Punta Cana called Higuey. Don't worry about that. There's no "Punta Cana" listed on Dominican Cupid. 80% of the girls will actually live in Higuey, but they'll be willing to come to Punta Cana to meet you.
Another 20% of the chicks will actually live in Punta Cana. Be wary of these girls. Maybe a third of the ones who live in Punta Cana will be prostitutes.
Overall, this site will give you the best chance of dating Punta Cana girls from the local towns around the resort area. Couldn't recommend it enough!
---
Day Game in Punta Cana
I wouldn't say day game is reliable in Punta Cana. It can work, but some luck may be required. Why? Because the foot traffic just isn't through the roof anywhere around the city.
To start, I'd suggest trying the beach areas open to the public. Playa Bavaro is a huge beach area, but the best spot to meet people? I'd suggest sticking to the El Cortecito and Los Corales. There's usually some women here in the afternoons, especially during high season.
El Cortecito neighborhood is where Bavaro Hostel is located. So, you may have a chance to meet some chicks walking around in the early evening here, too.
Tours are one of the best ways to meet women in Punta Cana. I know that's a surprise. But with a little luck, you could end up on an all-day tour with a group of girls looking for men. Don't expect this, but be ready to open any woman who isn't with a man or family when you're enjoying some tourism in Punta Cana.
Lastly, I've gotten laid from talking to girls at the malls.
There are two big malls in Punta Cana: Blue Mall and Plaza San Juan. Most of the shops are open during the week, but no one is shopping. Why? If it's nice out, everyone is enjoying the weather. This means the girls working in the stores will be bored.
So, go chat them up. If they like you, you should be able to get a number. From that point, it's on you.
---
Nightlife in Punta Cana
Some say Punta Cana nightlife is legendary. Others claim it's lackluster and filled with working girls. The truth falls somewhere in between. If you like huge clubs, then Punta Cana nightlife can be great in high-season. If you don't like giant mega-clubs, then the place might not be great for you.
The three most popular clubs in Punta Cana seem to be:
If you're looking to party, these places can be ideal on weekends. But they are pricey, loud, and you might meet some hookers.  Everywhere I went was hit or miss. If you have one Saturday night and need a recommendation, I'd start with Imagine and go from there. I had some success in Imagine, but I had to filter out working girls a few times, too.
Outside of these mega clubs, you have a few other options. There are a few bars and small clubs around Los Corrales and El Cortecito. The best one I found:
I became a regular here. This spot is cheap, attracts locals and tourists, and the music is great. It can be a little hot, but I almost always had a good night here if I had a friend or two to go with. Yes, there are a few working girls, but mostly, there's a lot of down-to-earth Dominicans.
Sometimes I would start a night here and then go to Imagine around 1:00 am.
If you meet tourists girls, I had great success inviting myself to their nightlife spot of choice. Just see where people are going before it gets too late and then make your plans. Basic stuff.
---
P.S: If you want more information about partying, check out my guide to Punta Cana nightlife.
---
---
Speaking Spanish in Punta Cana
You don't need Spanish to get laid in Punta Cana.
The majority of the tourist girls will be English speakers and the upper-class Dominican girls working in Punta Cana will speak English, too.
However, you'll do better with Spanish, especially on a longer trip and when dealing with local girls. The girls from Higuey rarely speak any English. Plus, you'll get huge bonus points for speaking the language.
If you're coming here for a week vacation, then speaking Spanish won't be worth it — unless you already speak some of the Romance language. However, if you plan to live in Punta Cana for a month or two, then you'll 100% want to invest some time and effort into learning Spanish.
If you want to learn Spanish to meet women, I suggest starting here.
---
How to Get Laid in Punta Cana | 2020 City Guide
Oh, Punta Cana girls. Punta Cana isn't the easiest place to get laid for most people. In fact, it can be downright difficult.
Many men come for vacation only to leave empty-handed. If you know what I mean…
However, if you follow the information above, you should meet some girls and get laid. The information above gives you the best shot of getting sex in Punta Cana without paying for it.
I guarantee that.
---

---
More Dominican Republic dating information:
(Visited 6,438 times, 8 visits today)
About the Author
Living and traveling around Latin America, Papi Chulo learned a thing or two about dating stunning Latinas. Now, he's sharing that information with the world. If you've ever wanted to meet stunning, exotic women - the time is now!