5 Best Guest-Friendly Hotels in Santiago de los Caballeros
If you're looking for guest-friendly hotels in Santiago de Los Caballeros, where you could potentially bring back some of the baddest looking Dominicana's in the country, then you're in the right place.
In this detailed guide, we're going to break down the absolute best hotels of the second biggest city in the DR, especially if you're a single male looking to have some fun on vacation.
I LOVED Santiago, as it's one of my favorite places to stay in the entire country. It doesn't have any beaches, but with that comes an upside: there are also not many annoying tourists that you have to worry about.
That also means as a foreigner, you have that exotic factor added to you that you wouldn't have in other tourist trap cities.
As long as you speak some Spanish, it shouldn't be hard at all, and with the help of hotels listed in this guide, you'll be a step ahead of everybody else.

5 Best Guest-Friendly Hotels in Santiago
No beating around the bush today. Drum roll, please!
Here are the five best hotels to give you the absolute best stay on your trip to Santiago de los Caballeros:
---
 – Cheap Hotels in Santiago –
---
Running at about $55 and less than 10-minute ride away from the nightlife district, I can tell you from personal experience that Matum Hotel is the best guest-friendly hotel in Santiago.
They offer free Wi-Fi, a sundeck, a pool, a bar, a club, and of course, a casino. If you're a single male, it's the perfect place because you're also close to a lot of spots around in the El Monumento area.
The casino is also a nice spot to take a date with as well. I'm a gambling man myself, and being able to have some fun, then walk a couple seconds to my main pad for even more fun with my lady friend is a giant plus.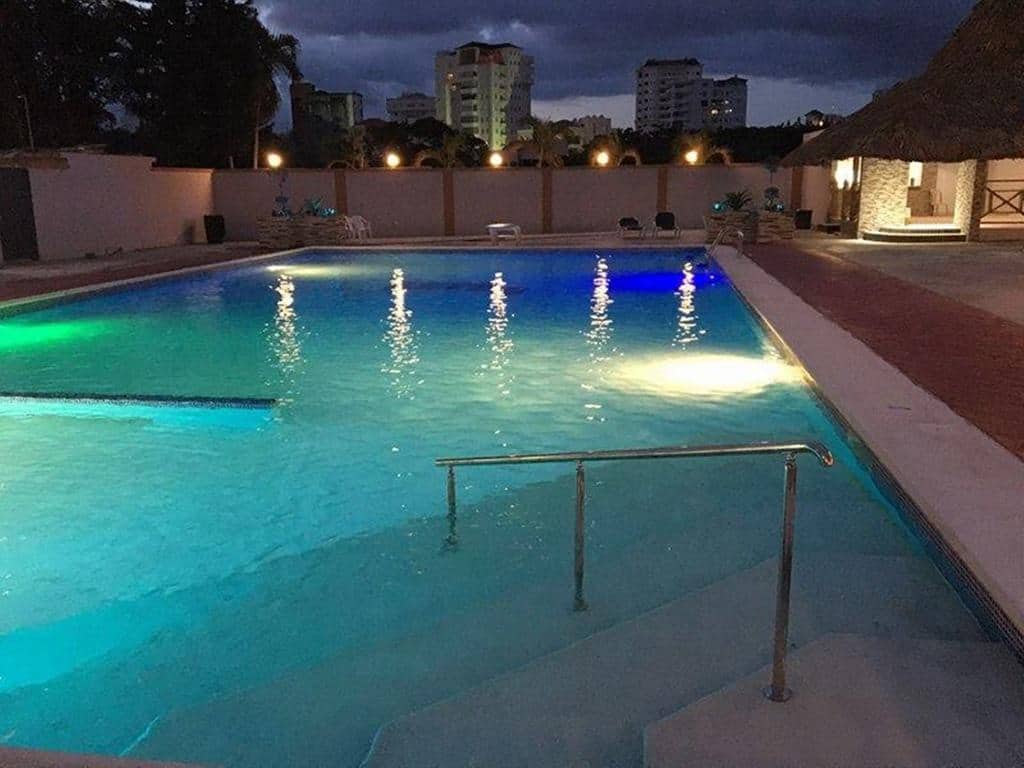 ---
If you want even better logistics for a low-price then the Hotel Los Jardines is for sure para ti. It is, however, a bit more expensive ranging between $60-70 a night.
All the good nightclubs and bars are a stone's throw away, and the rest of the places you'd want to go to in the city like the city center, and the Internacional Market are under a 10-minute drive away. Even the airport is relatively close.
They offer free Wi-Fi, A/C, a safety deposit box, a terrace for the ladies, a bar, and an on-site restaurant. The place also looks really nice and clean as well, both the inside and outside.

---
Santiago really is the city of cheap hotels. If you want to stay on a real tight budget on your trip here, then look no further than the Palmetto Hotel at about $40 per night.
Not gonna lie, this isn't the greatest looking place ever, but for $40 a night it's more than good enough. Most importantly you will have great logistics for a cheap price as it's located only about a mile away from the nightlife.
They offer free Wi-Fi, A/C, and a terrace. Some rooms offer city views but not all, so you'd have to reserve ahead of time if that's something you would like.

---
– Mid-Range Hotels in Santiago –
---
Kicking off the mid-range hotels, Hodelpa Centro Plaza will only cost you $80 per night, so it's pretty good bang for your buck. In my opinion, it's just a slightly better-looking Matum.
Location is right in the center of the city, as you will only be a 5-minute walk from El Monumento, and about a 20-minute walk from all the good bars located in Santiago.
They feature a dinner buffet, breakfast, a casino, a gym, free Wi-Fi, a balcony to overlook the city, and a mini-bar for both you and your Dominicana. If you're into shopping, there's also a whole bunch of stores around this area as well.

---
A true high-quality hotel for a great price, Hodelpa Gran Almirante runs between $130-$150 a night. Located right in el barrio de Los Jardines; if you decide to stay here you'll be 100% centrally located at a baller hotel.
Any Dominicana that you end up taking here will for sure be pretty excited to stay with you. Aesthetically speaking, it's the best-looking hotel in Santiago. Shit, I'd be pretty amped to be staying somewhere like here as well.
They provide a casino, a pool, a bar, a gym, free Wi-Fi, a dope balcony view, and a free shuttle service to the airport. They have everything you would ever want and/or needed on your solo trip to Santiago. Highly recommend.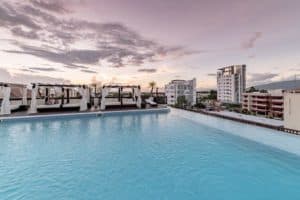 ---
– High-End Options in Santiago –
---
Yep, you're reading that title right…
Nothing listed here.
As far as high-end options in Santiago, there really isn't any. As far as most price standards for Western World 5-Star hotels go, Santiago is just insanely cheap.
So, if you really want to ball out during your stay in Santiago, just get the Presidential Suite at Matum or Hodelpa Gran Almirante is really the only options.
The one at Matum is only $250 a night, but if you want to be closer to the nightlife, the suite at Hodelpa will cost you over $400 per night.
The Presidential suite at both places are pretty much the same, just in different locations. They both include bigger rooms with more beds, a better view of the city, and more things that you probably won't need like a fridge and a dining room.
But hey, you're the one that wanted to really ball out right?
I honestly don't recommend getting these, as the normal rooms are fine in their own right and will be sufficient enough for girls to not look at you just as some dirty, broke traveler.
More Santiago de los Caballeros Travel Info For Men
That's all we've got for hotels in Santiago.
But here are a few more facts for you:
#1 Santiago has the sexiest Mujeres in all of the DR. Point. Blank. Period. You will see legitimate 9's on your adventures through Santiago.
#2: As a foreigner in a non-tourist city, getting laid shouldn't be too hard for you here. Use the whole "exotic factor" to your advantage.
#3: A downside of Santiago not being a tourist city? English levels are pretty low, learn Spanish.
If you really do want to learn Spanish, check out this program and click here.
I'd also recommend that before you arrive, you learn a few things about the Dominican Republic, it's women, and Santiago itself. I go more into depth about those things in these articles right here:
A good online dating site should also be kept in your back pocket at all times.
Aside from Santo Domingo, Santiago de los Caballeros might be my favorite city in the DR. All it's really missing is the beaches, but that's not a problem if you just travel an hour to the north, because there they are!
For all you solo male travelers looking for a vacation in the Caribbean, remember not to forget about Santiago de los Caballeros.
Ese es todo por hoy, hasta luego.

(Visited 379 times, 1 visits today)
About the Author
Living and traveling around Latin America, Papi Chulo learned a thing or two about dating stunning Latinas. Now, he's sharing that information with the world. If you've ever wanted to meet stunning, exotic women - the time is now!