6 Best Guest-Friendly Hotels in Punta Cana
If you're looking for clean and comfortable guest-friendly hotels in Punta Cana, then you've come to the right place.
In this detailed guide, we're going to break down the absolute best hotels in the beach party town of Punta Cana, especially if you're a single male looking to have some fun on vacation.
Punta Cana is a blast. Point. Blank. Period. There's so much to do here from going on vacation with your family, enjoying the beaches, and enjoying the gorgeous woman. If you're like me, you're reading this right now for the latter.
If you haven't already read my two other guides on Punta Cana first:
Ready to get to logistics? Let's go!
But as a disclaimer, Punta Cana is a huge tourist trap. Prices will be expensive, and tourists will be rowdy. Another downside to that is a lot of hotels are really picky who they allow back. Many are not guest friendly, especially the all-inclusive resorts.
Be sure to call ahead of time and confirm at the place you're staying. This is essential when booking hotels in Punta Cana.

6 Best Guest-Friendly Hotels in Punta Cana
Now for the moment you've all been waiting for, let's jump right into the rice and mondongo of this here post.
Here are the six best accommodations, that promise you the dopest time during your stay in Punta Cana:
---
Cheap Hotels in Punta Cana
---
If you want the best spot for the cheapest price, then come to the Hotel Flamboyán. You won't find many places at $45 a night that are centrally located with lax guest policies like this one.
As far as amenities go, they feature Wi-Fi, A/C, a garden, restaurant, and a casino. Nothing special for hotels in Punta Cana.
The hotel is located about an 8-9-minute drive from the nightlife and its neighboring beach. Not 100% ideal as you can't park, but for the most part it has solid logistics. Just don't let any cab drivers out there try and scam you because they definitely will.
If you want to pick up tourists, then this place isn't probably ideal as it's not on the beach nor is it very luxurious. If you speak some okay Spanish and stick with the local girls, then you shouldn't have any problems.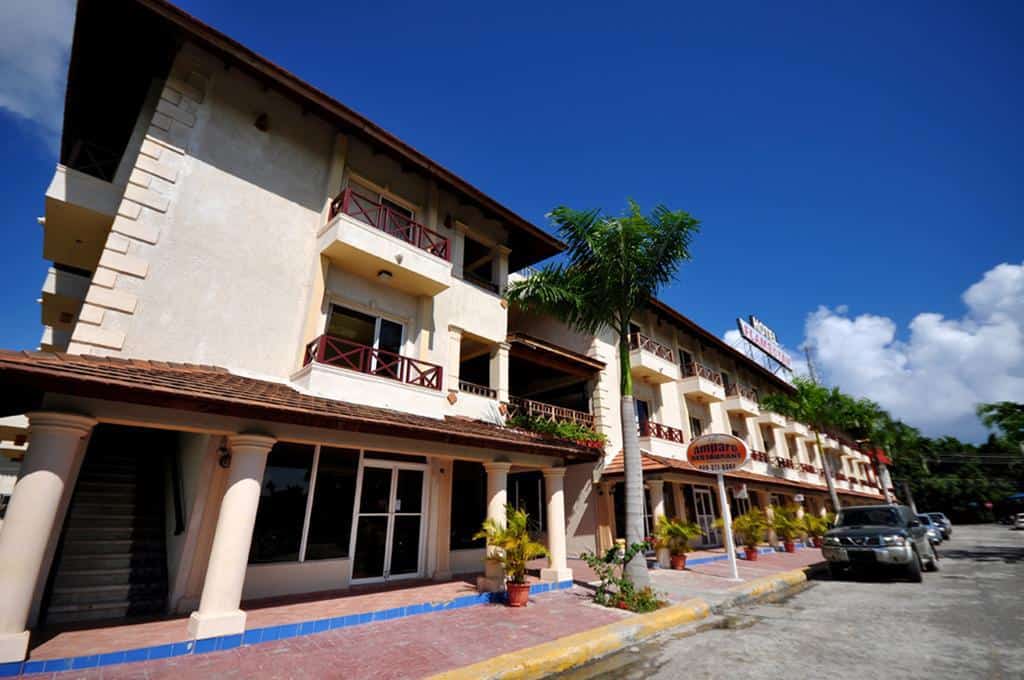 ---
Hotel Tropicana Suites Deluxe Beach Club and Pool
Coming in at around $55 a night is the Tropicana Suites. If you want the best logistics for the cheapest price, then come here.
The hotel is located about a 2-minute walk from the beach and is right around the corner from the nightlife. You also get the benefit of a shopping center and a bunch of restaurants within walking distance.
They offer free Wi-Fi, A/C, a fitness center, pool, bar, private beach, and a balcony with a view. I highly recommend the on-site bar, as it's clutch to bring a girl back for a drink or two.
I highly recommend this spot over the hotel mentioned above. It's barely more expensive and offers 1,000x better logistics.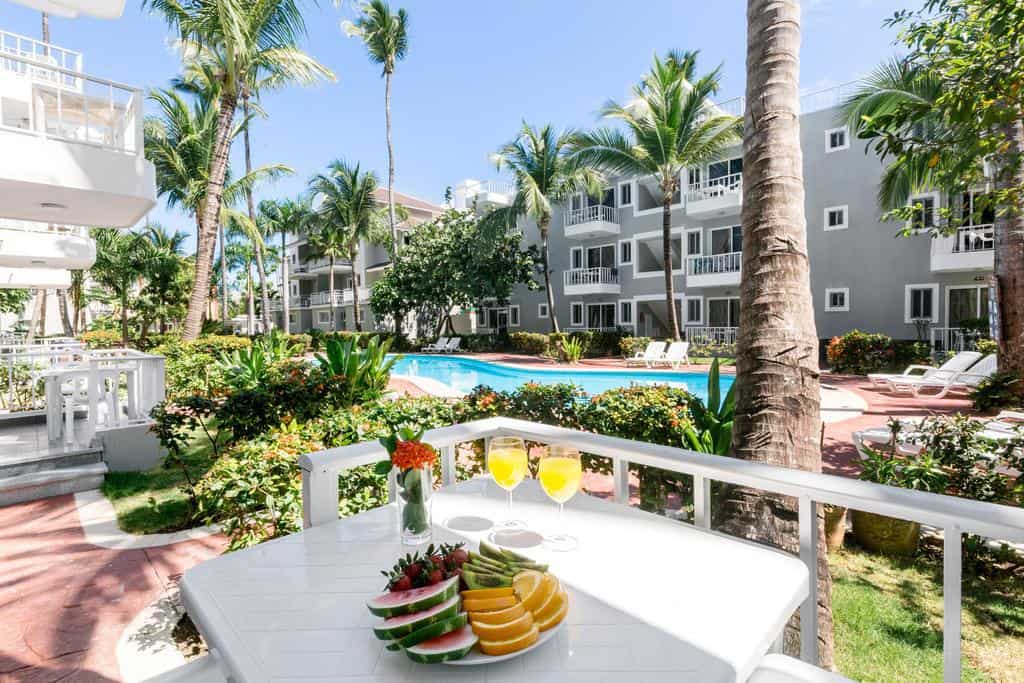 ---
Mid-Range Hotels in Punta Cana
---
Chateau Del Mar Ocean Villa
You can probably call this place a hybrid between a hotel and an apartment. The rooms at Chateau Del Mar Ocean Villa vary from prices as low as $110 to as high as $150.
It's pretty small as they feature only about 20 rooms, so they may be sold out quite a bit. Make sure you book well in advance if you plan to stay here, especially in the busy season.
They're located about a 2-minute walk from the beach and less than a 10-minute walk from the nightlife. The logistics are indeed solid.
They feature free Wi-Fi, a pool, A/C, and a garden for the ladies. They don't offer a ton, but it's enough as the logistics make it worth the price for the most part.
Another thing that justifies the price are the spacious living conditions. Expect the set-up inside to look more like an apartment/mini-penthouse vs. an actual hotel. You'll get a whole kitchen, balcony, and a living area. Not to mention the place is very clean and up-kept. Perfect for the single male traveler.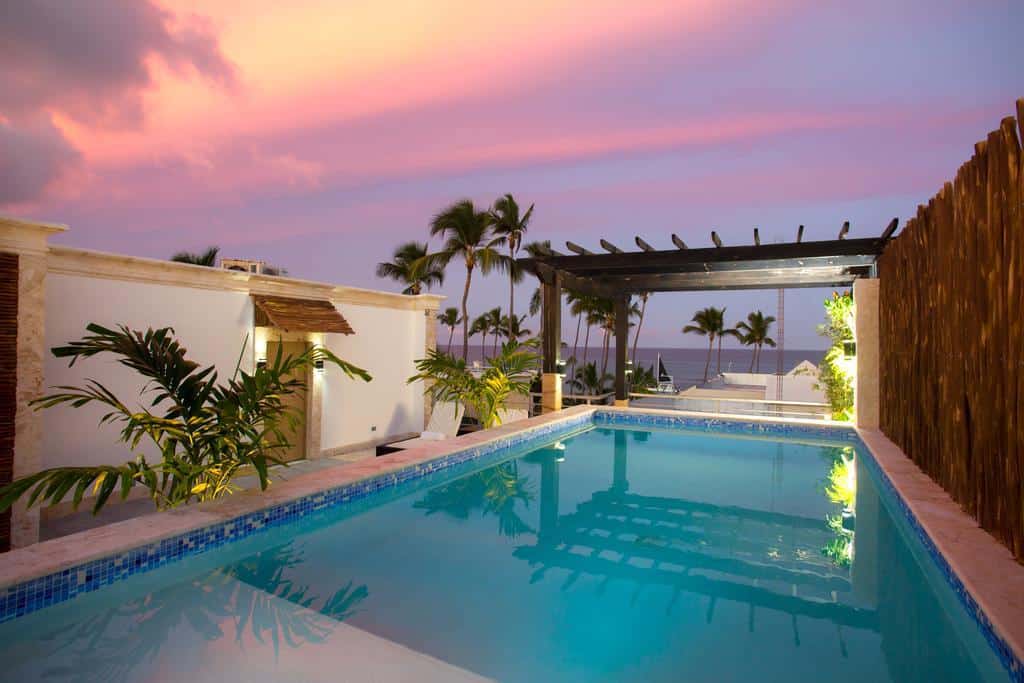 ---
Another hotel located in Bavaro, coming in at around $87 per night. Out of all the hotels listed so far, NH Punta Cana might be my least favorite. That doesn't mean it's not worth looking into however.
Are the price and logistics great? Well compared to the Hotel Tropicana, absolutely not. For a mid-range hotel though, you won't find a better price then this with just "average" logistics.
The reason I say average, is because it's not really close to the beach or the nightlife, about a 15-min walk. Now I know that's not crazy un-doable, but walking outside two-minutes to the beach and bars are so much more convenient
On the upside, the hotel is aesthetically very nice looking and clean. They also offer a lot of amenities to keep you occupied, such as most importantly a jacuzzi, a pool, tennis courts, A/C, free Wi-Fi, a safe and an in room mini-bar.
So, if you do manage to pull, this hotel gives you a lot of advantages to finishing off your swoop. Hell, you can even start a night here and never even manage to go out thanks to the alcohol and jacuzzi.
Overall, I'd say this place is a solid option.

---
High-End Options in Punta Cana
---
Now the Sheraton's standard rooms aren't high end by any means at under $100 a night. If you want high end, you'll have to buy their suite, which will run you close to $200 a night.
The good news about the Sheraton is that if you choose to fly into Punta Cana, it's right near the airport. The bad news is it's not close to anything else. It's about a 20-min drive from the nightlife area. I assume you don't mind taking cabs though if you're willing to spend $200 a night on a hotel room however.
There aren't too many "guest-friendly" hotels in the high-end range in Punta Cana, they're all resorts. If you want a high-end hotel here, then you'll have to sacrifice logistics, plain and simple.
As far as amenities go, they offer a pool, spa, fitness center, A/C, Wi-Fi, restaurant and bar. At the end of the day, you're much better off going with the cheaper options.

---
Paradisus Palma Real Golf & Spa Resort
I know I said don't buy resorts during your time in Punta Cana, and I stand by that statement. However, if you want to go high end, then most likely you're going to have to go with a resort.
Most as well go with the best right? Well, Paradisus Palma Real is one of the best resort in Punta Cana, and it's going to run you $250+ per night on the low end. But that's what you get for wanting a 5-star tourist trap resort.
The property is less than a 10-minute walk from both the public beach and the nightlife area. That's a little misleading though because the resort has its own private beach – which is just a walk outside.
They offer free Wi-fi, A/C, a balcony with a view, a delicious breakfast, a fitness center, a spa, a pool, a bar, 5 tennis courts, and 7 restaurants. Definitely a bit over excessive if I do say so myself.
Security will be tight here, so good luck if you're trying to bring a local back to your pad. My best advice if you stay here would to just try and game someone at the resort and use all of its amenities to your advantage.
You can also pay $40-75+ to bring guests back on a day pass to the resort. But that's a bit pricey in my opinion.

---
More Punta Cana Travel Information For Single Men…
Punta Cana is one of the most popular resort towns in the entire world, and for good reason. My favorite thing about Punta Cana is that you know what you're in for when you come down.
That is a bunch of sexy Dominicanas and horny tourists on vacation. You have to remember though that it is a tourist trap. Every Tom, Dick, and Harry is trying in some way to hop in your pockets. That's especially true if you're a gringo who speaks next to no Spanish.
Speaking of Spanish, you might be asking how important it is in Punta Cana? Well, unlike a lot of other places in the DR, you can definitely get by without Spanish here. Being built on tourism really helps in that effect. Knowing Spanish will still help you a ton though, especially with the ladies. It just puts you one step ahead of gringo Chad who's down here with his boy for spring break.
I recommend checking out the PICKUP SPANISH course before you head down to Punta Cana. A few weeks of that will totally give you the edge that you need over everyone else.
If you're looking for a Dominican cultural experience, then Punta Cana just isn't it. But you're probably not reading this site because you want a great cultural experience – sí o no?
You want to party, and you want to have sex with the finest Dominicanas around.
Well if that's your goal, then Punta Cana is definitely the place for you. Beautiful beaches, women, and weather – what more could you ask for? Not to mention the nightlife is always lit. Punta Cana is one hell of a time, and you won't for sure won't regret coming here. Te lo prometo. Or your money back.
Time to wrap this up. Hopefully this guide serves you well on your conquest through the Dominican Republic.
Until next time muchachos, chao.

(Visited 2,023 times, 4 visits today)
About the Author
Living and traveling around Latin America, Papi Chulo learned a thing or two about dating stunning Latinas. Now, he's sharing that information with the world. If you've ever wanted to meet stunning, exotic women - the time is now!