5 Best Guest-Friendly Hotels in Puerto Plata, Dominican Republic
If you're looking for the best guest friendly hotels in Puerto Plata, where you could potentially bring a back a sexy Dominicana, then you're in the right place.
In this detailed guide, we're going to break down the absolute best hotels in the beautiful beach city of Puerto Plata, especially if you're a single male looking to have some fun on vacation.
As much as I enjoyed my stay in Puerto Plata, the nightlife isn't really up to par. Other towns such as Santiago blow this place out of the water in that regard. Like a lot of beach cities in the DR, Puerto Plata also suffers from an influx of sex tourism.
If you're that inclined to come here, then we got you covered. No te preocupes.
The hotels listed in this guide include both perfect logistics and lax guest policies to help you get laid in Puerto Plata.

5 Best Guest-Friendly Hotels in Puerto Plata
So, without further ado, let's take a look at these hotels in the beach city we all know and kind of love, Puerto Plata.
Here are the top five hotels that we believe would serve you best on your trip to Puerto Plata….-
---
– Cheap Hotels in Puerto Plata –
---
You won't find anything closer to the beach with a price like this. Running at about 40$ a night. If you're coming to Puerto Plata on a budget, then I highly recommend staying here.
ApartHotel Costambar features free Wi-Fi, A/C, a private balcony, a kitchen and a pool. The area is very safe, as it's mainly filled with older expats living in retirement.
The downside? Well, this place isn't very centrally located, as you're about a 10-15 drive from the City Center, so there definitely won't be any walking home with girls during the night.
The thing is if you stay in the city center, $40 is going to get you a $40 hotel – quite literally. They're all horrible and most Dominican girls will probably laugh you out of the DR if you tried taking them there.

---
This is your hidden gem in Puerto Plata. If you want anything relatively close to the City Center, then this is your best bet at around $40-60 per night.
About a 4-minute walk from the beach, and right around the corner from the highly recommend Long Beach area, you really can't go wrong if you choose to stay here.
If you plan on getting laid in Puerto Plata, then trust me, you might really want to stay here, as it has the good price, the logistics, and cleanliness.
As far as amenities, they offer free Wi-Fi, an outdoor pool, a BBQ area, and a terrace. The downside is that they don't have A/C, so you'll have to do with a fan.

---
– Mid-Range Hotels in Puerto Plata –
---
Located close to Playa Dorada, expect to find a room here for anywhere between $120-130 per night. For all the resorts located on Playa Dorada, this is one of the cheaper ones, and it's pretty awesome.
Blue Bay Villas Dorada feature a sauna, pool, A/C, jacuzzi, tennis court, massage services, a fitness center, and even a night club.
If you read my Puerto Plata guide, then you'll understand why you might not get laid by a Dominicana if you stay here. It's an all-inclusive.
If it so happens that you do, then I'd recommend to try and pick up another tourist, preferably someone staying at this resort.
In my opinion, Playa Dorada is the best beach in the city, so if that's a solid trade-off and you do want to try your luck, the City Center is about a 15-minute drive away.

---
Located in between Long Beach and Playa Dorada, the Blue JackTar costs between $90-110 per night. I highly recommend this place if you are bringing a girl to Puerto Playa with you.
Why do I say that? Well mainly because you could enjoy a whole weekend of relaxation and sex chilling on the private beach that this hotel offers. Or maybe go out for a nice dinner and wine date at the on-site restaurant.
Not saying it's bad for the solo male traveling in Puerto Plata, as it still has an on-site bar, and is better located then most of the hotels listed so far. However, you will be about an 8-minute walk from the public beach, which will only be a problem if the private beach just isn't cutting it for you.
As far as other amenities, they include a pool and a fitness center for you to get your swole on.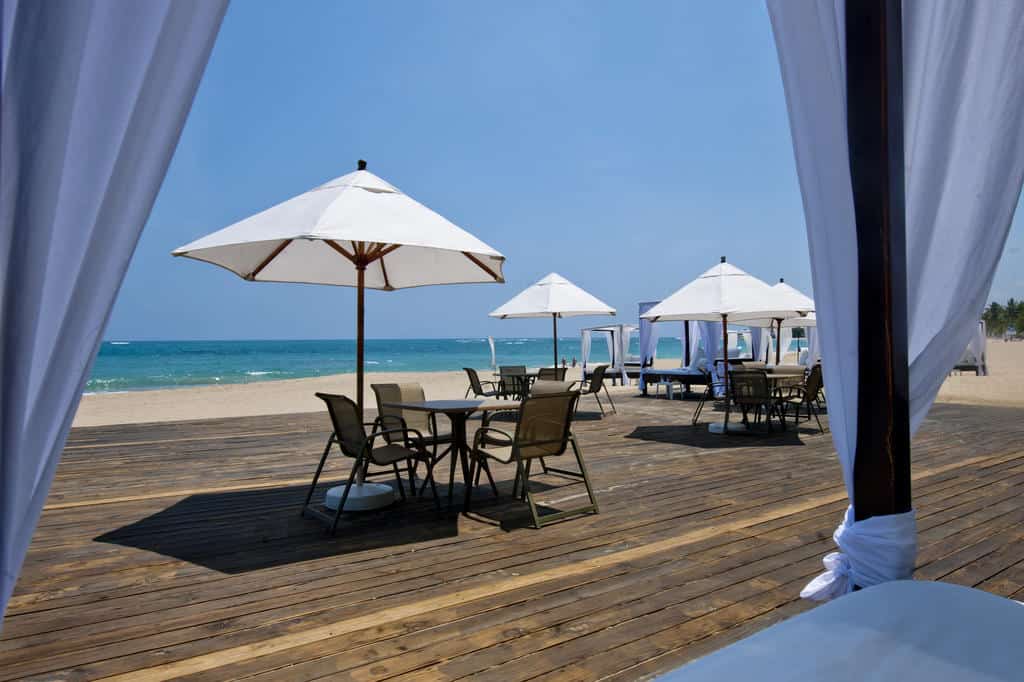 ---
More Puerto Plata Travel Info For Men…
I like Puerto Plata, I really do. But as far as the Dominican Republic goes, there are so many locations better suited for single males who want to have fun and get laid. If you want to stay for an extended period of time, then maybe it's not such a bad idea – as the Costambar area is a great place to live.
Not to mention, most girls from Puerto Plata prefer the guy who's not in the town for only 3-4 days. A good pad will put you levels ahead of anyone else.
The biggest upside to living here? You can still party like crazy in both Cabarete and Santiago without having to deal with all the bullshit, as they're both located relatively close.
The best thing you can do before you head to Puerto Plata is to learn about its surrounding areas. You can do so by reading these articles:
Until next time, hasta luego.

(Visited 445 times, 1 visits today)
About the Author
Living and traveling around Latin America, Papi Chulo learned a thing or two about dating stunning Latinas. Now, he's sharing that information with the world. If you've ever wanted to meet stunning, exotic women - the time is now!