5 Best Guest-Friendly Hotels in Santo Domingo
If you're looking for guest-friendly hotels in Santo Domingo where you could possibly bring a nice Dominican girl, you're in the right place.
In this detailed guide,  we break down the absolute best hotels in the capital of the Dominican Republic – especially if you're a single guy looking to have a good time.
These hotels are not only in the ideal neighborhoods and locations throughout Santo Domingo, but they also have lax guest policies and will allow you to bring a sexy Dominicana back to the room.
And trust me when I say, you'll want to bring back some of the girls in Santo Domingo. I've never seen so many true stunners in my life than in the high-end clubs throughout this massive city.

5 Best Guest-Friendly Hotels in Santo Domingo
Before we get too far, it's important to note a few things. First, Dominican girls do not like cheap men.
I can't state this any clearer. The cheaper you are the worst luck you'll have with women in the DR. That's just the way the game goes.
Trying to find a $20 a night hotel in Santo Domingo is not what you want to do here.
Instead, you need to spend a little more money to attract the best looking women Santo Domingo has to offer.
But I understand some people can't afford the best hotels in Santo Domingo. So I've included some carefully selected options that are cheap and still nice enough that Dominican girls won't balk at coming inside.
This was not an easy thing to do, but I did it for you. And the chapiadoras!
P.S: Always book a hotel room for two people in the Dominican Republic – if you plan to bring girls back.
So without further ado, here are the best guest-friendly hotels in Santo Domingo, Dominican Republic:
---
– Cheap Hotels in Santo Domingo –
---
This is the best hotel in Santo Domingo for under $50 bucks. There's not even a close second in my mind, either.
Why? Because TAU Casa Conde is in an ideal location right off the main street in Zona Colonial. They also have no issues with guests and girls love the modern decor. Plus, the breakfast is better than you typically find in the Dominican Republic.
I also found the Wi-Fi here to be stronger than many other cheap hotels in the DR. Overall, it's about as good as it gets when talking value for your money in Santo Domingo.
There's no pool here, but with so many bars in walking distance of your room – you won't have an issue getting laid while staying here.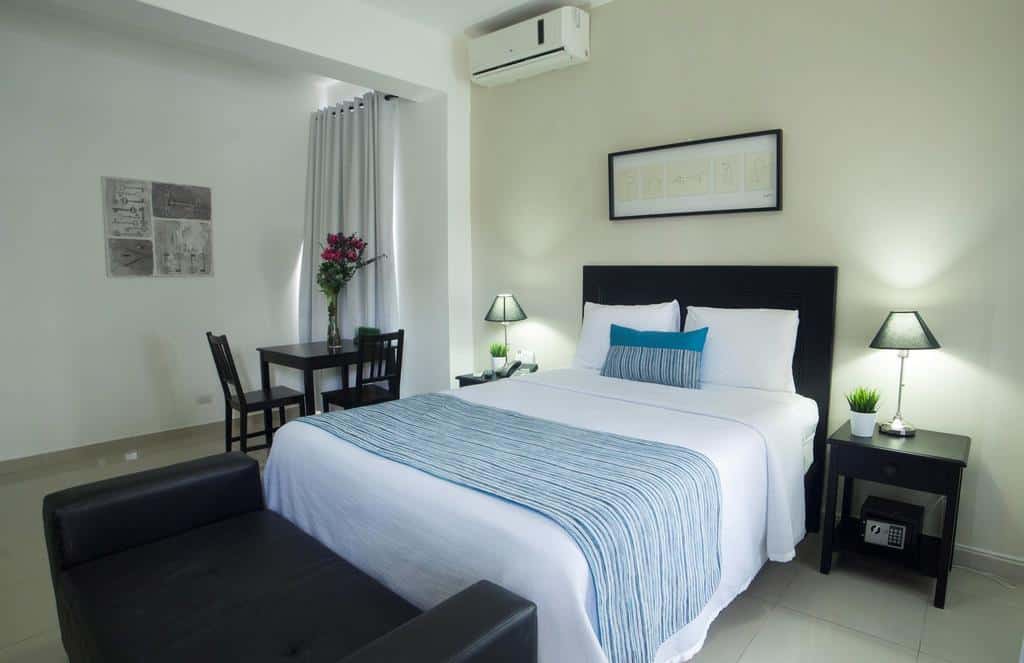 ---
RIG Hotel Boutique Puerto Malecon
While the location and simplicity of TAU Casa Conde is solid, this is another decent budget option around Zona Colonial.
Well, RIG Hotel Boutique Puerto Malecon is located in Ciudad Nueva – about a 3-5 minute walk from both Zona Colonial and the Malecon. In my opinion, a great location if you plan to stay for more than a week and have multiple girls come over.
The hotel also has an impressive rooftop deck that is amazing to drink some wine on a date. They have a pool, too. However, it's pretty average.
The decor in the rooms is solid, the drinks at the bar are cheap, and you won't have any issue bringing girls back. Overall, a solid option at around $40 bucks a night.
---

---
– Mid-Range Hotels in Santo Domingo –
---
Dominican Fiesta Hotel & Casino
I have a love/hate relationship with the Dominican Fiesta Hotel & Casino. On one hand, the place has absolutely amazing amenities for a hotel in its price range. Truly everything you'll need for your stay in Santo Domingo is here.
From a huge pool to a gym to a spa, this hotel has it all. The place has a casino, bar, lounge area, and restaurants. You could never leave the complex if you felt so inclined.
The issue? The location is a bit of a drive away from nightlife areas like Naco and Zona Colonial. You'd have to take an Uber to hit any clubs. Plus, the decor inside the rooms is not horrible, but it's certainly not modern, either.
Overall, for $75-90 bucks, this place is a steal – especially for guys who just want to unwind and relax while using online dating in the Dominican Republic to call girls over.
---

If you're looking for a players' paradise type of hotel, then this is your dream. Located on the Malecon, the Napolitano Hotel offers Caribbean ocean views and a nice pool area to unwind.
Dominican girls love the place. Often, you can invite them straight over to the hotel to hang out at the pool and they'll be more than happy to come over.
The location is about a 5-10 minute walk from the start of Zona Colonial and the hotel has a nice bar on the premises.
Overall, this may be my top pick for players coming to the Dominican Republic for 3-5 days. This place offers ideal logistics, isn't too expensive, and allows guests. Plus, the benefit of having a pool, bar, and ocean views on location cannot be underestimated.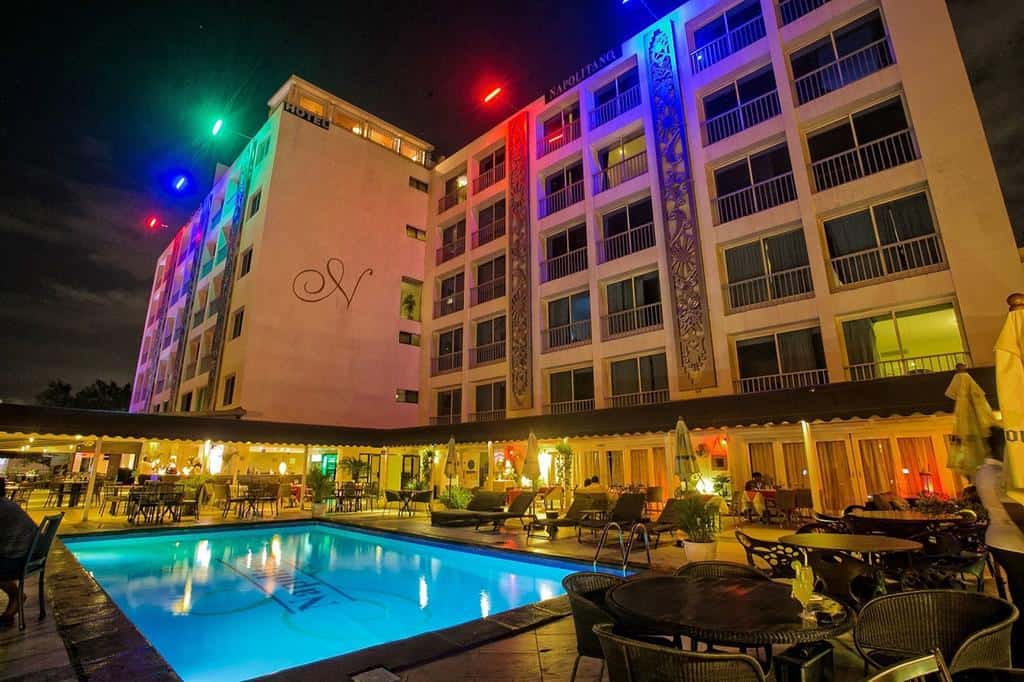 ---

---
– Baller Hotels –
---
I could put a bunch of hotels in this category in Santo Domingo. There's a lot of nice hotels in the $150-250 a night range throughout the city. You'll get laid staying in any of them. This is close to a guarantee – if you can chunk up that much change.
But if you want to get the best Dominican women, then there is only one baller hotel in Santo Domingo to stay at.
What's that?
Dominican girls from Santo Domingo go absolutely insane when they hear you're staying at this hotel.
They know it costs $250+ a night.
They know the rooftop pool is the best place to take Instagram photos in the whole city.
Plus, the place has every amenity you could need – including a great bar in the hotel and a full equipped gym, too.
If you're going to ball out and impress Dominican girls with where you're staying, this is the place to do it. Dominicanas go crazy for the J.W. Marriot.
---

---
More Santo Domingo Travel Information For Men…
Outside of finding the best hotels in Santo Domingo before your trip, you need to learn a few things about dating in the Dominican Republic.
That's where I come in.
I've talked more about dating these stunning Caribbean women that just about anyone else. If you're looking to date and mate with a Dominican girl, make sure to check out these articles, too:
The Dominican Republic, especially Santo Domingo, is one hell of a place. You just have to know how to make things work in your favor while in the country.
A nice hotel will more than tip things in your favor. And so will the best online dating site in Santo Domingo.
If done right, the girls will come to you…

(Visited 1,666 times, 3 visits today)
About the Author
Living and traveling around Latin America, Papi Chulo learned a thing or two about dating stunning Latinas. Now, he's sharing that information with the world. If you've ever wanted to meet stunning, exotic women - the time is now!