Peeping Dominican Girls, Part #1
I looked up from the couch. Through the front room window, I couldn't believe what I saw. A Dominican girl was peering into my living room.
I had two dates with this girl last week and now she was outside my place.
She looked like a cross between a nosy neighbor and a robber. Was she trying to catch me with another woman? Why the surprise visit?
Three hours earlier that day and she would have caught me with another woman. But this time she got lucky.
Or I got lucky.
I sat up, grabbed the remote, paused "How I Met Your Mother" on the TV. She cupped her hands around her eyes and looked in. I stood and opened the front door.
She smiled a big toothy grin. I gave her a hug and a kiss on the cheek. I tried to look pleased. All while I was trying to hide my confusion…and anger. When you're managing a harem in the Dominican Republic, the golden rule is:
Your girls must give you a warning if they're coming round. If they don't, you'll get caught out and you might lose your balls.
I invited her in. She said she was in the neighborhood and wanted to see if I was in. Like I believed that – she lived on the other side of Santo Domingo.
She was dressed up. Like she had been out for lunch. Or maybe she expected me to invite her out for lunch.
If she was going try to catch me out, then I was going to enjoy myself and take advantage of the surprise visit.
I told her I was in the middle of watching a series. She didn't mind spooning me while I finished the episode. It creased her dress but she didn't care. She probably wanted me to poke her in the back and caress her recently shaved legs with my hands.
I tried to listen to Barney Stinson's life advice for players while slipping into her from behind. She had a better idea.
She rolled off the couch and dropped to her knees. Then she grabbed my hips and started sucking my dick like it was a popsicle.

I lifted my head and my eyes rolled back in my skull. When they rolled back down, I realized we were still in the living room of my apartment. I ducked and looked out as a neighbor walked to his pickup truck in the parking space opposite my apartment door.
I imagined him adding my oral sex experience to the agenda of the next neighborhood watch meeting. Like they have those in the DR 😉
My Dominican girl carried on deepthroating, oblivious to the open curtains. I guess Dominican girls don't care about getting caught giving head in the window of the first-floor apartment.
The residents in the building weren't my only worry. I lived with a roommate who was out buying groceries. I had no idea what time he'd be back.
There was a fight going on between my head and my body. On one side the fear of getting caught. On the other the pleasure from the sloppy blowjob.
Just as I was moaning with pleasure, logic and worry got the better of me. I put my hands under her armpits and pulled her up.
"No puedo." / I can't.
I liked living here. I didn't want to get thrown out. And technically it was my roommate's apartment.
With my jeans around my ankles, I shuffled like a prisoner in ankle chains to the bedroom. I pulled giggling blowjob girl along behind me. Once in the room, I pushed her on the bed and slammed the door behind me.
Phew! Some privacy at last…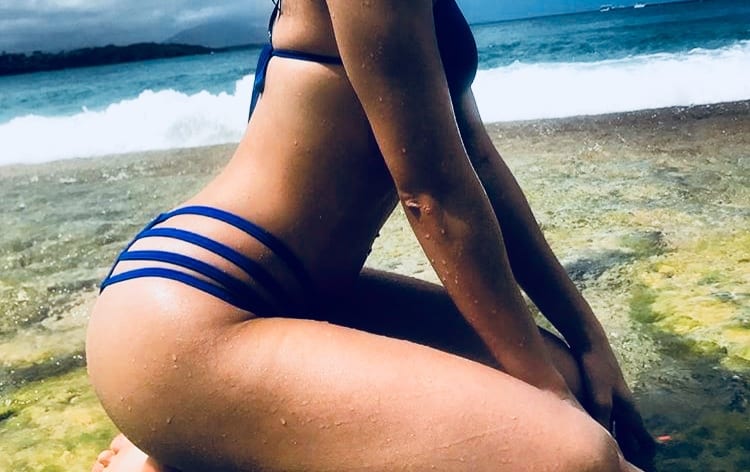 Back to Business
I sat down, stood her up, and turned her around. I made her undress and give me a lap dance at the same time. She had a body made for stripping.
I'm sitting there thinking: "I can't believe I'm not paying for this."
Once she'd taken everything off, I lay back on the bed and pulled her on top of me. She reached between her legs, pointed my dick to the sky, and impaled herself on it. She started riding me with a big grin on her face.
Not gonna lie, it was sexy as hell. She moaned as she rode me six ways to Sunday.
Then I heard the front door open. My roommate was back with his groceries, although he wouldn't have cared.
But that was close.
This girl turned out to be the freakiest Dominican girl I ever had. Next time I'll tell you about the time I fingered her in the movie theater.
To be continued…

(Visited 322 times, 1 visits today)
About the Author
Living and traveling around Latin America, Papi Chulo learned a thing or two about dating stunning Latinas. Now, he's sharing that information with the world. If you've ever wanted to meet stunning, exotic women - the time is now!