How to Date Boca Chica Girls – City Guide
Boca Chica is the closest beach town from the capital of Santo Domingo. While the place isn't anything special from a beach perspective, it's easy to get to and cheap. Plus, you can meet lots of Boca Chica girls here.
Now, most of the women in Boca Chica will be working girls. I wouldn't come here expecting to find the love of your life. Most of these women will be hookers. Not all of them, but most. If there's a chance you think a Boca Chica girl is a hooker, she definitely is.
But, I still want to show you how to have a good time here. There's women to meet. You just have to know how to do it without getting charged an arm and a leg.

Dating Dominican Ratings
Looks of Boca Chica Girls: 2.75/5
How Easy Are Boca Chica Without Paying: 2.75/5
Overall: 2.75/5
Breaking Down Boca Chica, Dominican Republic
Populations: 80,000 in the city, 130,000 overall.
Costs: Boca Chica is fairly cheap. You can find hotels for $20-50 a night. Airbnb costs are similar. A budget of $50-75 a day is more than sufficient here.
Safety: Boca Chica is pretty safe for tourists. The city relies on tourists, so they do a decent job of keeping things safe. This is especially true when you consider how many hookers and thugs are in the city.
Climate: Hot and tropical. This is a beach town. Don't come here expecting to feel refreshed.
Tourism: There's beaches, boats, and amazing four-wheeler tours. You won't get bored here for a weekend, but you might if you stay a week.
What Do Boca Chica Girls Look Like?
The girls in Boca Chica won't be the most attractive and many of them will be Haitian. However, you will see some pretty ones from time to time.
On average, the women in Boca Chica are darker than most other places in the country. It's a beach town that attracts hookers, Haitians, and more. So, the population tends to not look like the girls in Santiago or San Fransisco de Macoris.
Where to Stay in Boca Chica, Dominican Republic?
Boca Chica isn't big. Nearly all of the accommodation is centered around the beach. The closer to the beach you are the better.
I stayed at a guesthouse one street off the beach in the center of Boca Chica. It wasn't anything fancy and cost around $25 USD a night. That included A/C, WiFi, and a safe in my room.
Just try to stay somewhere in this photo and you'll be good to go:
Sex in Boca Chica: Is It Difficult?
That's a joke, right? Sex in Boca Chica is guaranteed, if you're paying for it. I'd venture to say 90% of the women you'll meet in Boca Chica as a tourist will be hookers or part-time hookers thinking about making a little extra cash by fucking you.
If you think your "game" will ensure you don't pay, you're an idiot. That's not how things work in Boca Chica. Sex in Boca Chica comes with a cost.
Now, you can meet girls here who aren't hookers, but that's like finding a needle in a haystack. For example, you can meet women in Boca Chica who come to the beach for the weekend and are from Santo Domingo. These girls won't be hookers.
You can also meet girls online who live away from the tourist areas and aren't hookers. However, if she's a normal girl, she'll be quite wary of why you're in Boca Chica because almost all tourists come for the whores.
Sex in Boca Chica isn't tough, but finding it without paying can be.
How to Get Laid in Boca Chica, Dominican Republic
If you want to get laid in Boca Chica without paying, you're facing a huge uphill battle. However, it's not an impossible feat. Here's how I did it:
Online Dating
The absolute best way to meet normal girls in Boca Chica is by using online dating. In fact, it might be the only way to meet locals who aren't hookers. Here's the sites to use:
Dominican Cupid: There's over 100+ girls on Dominican Cupid in Boca Chica every month. About half of them are hookers. So, the pickings aren't great, but it may still be worth it. If you like the beach in Boca Chica for some reason, you can invite Santo Domingo girls up for a few days.


Latin American Cupid: There's another 80+ girls on Latin American Cupid in Boca Chica. While I wouldn't plan to spend more than a weekend in Boca Chica, using this site would be worthwhile if you were living here.
Tinder: I found 85% of the women on Tinder in Boca Chica to be hookers. Do not use Tinder in Boca Chica unless you want hookers. If you want to pay, there are some hot chicks here.
Day Game
Honestly, I'm not sure I would waste my time here. If she's walking around the tourist area and not from Santo Domingo, there's a great chance she's working.
I met one girl on the beach that wasn't a professional and we ended up fucking in the ocean later that night. But she was from Santo Domingo and at the beach with her friends for one night. I'd call it beginners' luck more than anything else.
So, feel free to hit on any girls you see walking around Boca Chica, especially around the beaches. Just remember that 60-80% of them are sure to be whores.
Nightlife
I'm not going to waste my breath here. If you want a whore, feel free to go to any of the bars and clubs around the beach. Or really anywhere in the city. You'll meet plenty of them there. Many of them will even seem normal to you. If they're in a bar with a tourist in Boca Chica, they're working girls.
There is not nightlife here for people who look foreign and don't want to pay for a hooker. It simply doesn't exist in Boca Chica. If you want that, go to Santo Domingo or Punta Cana.
Also, don't try not paying here. The Dominican thugs will get you. Boca Chica is a pretty safe place – until you try to not pay a whore and she calls here "cousin" to come visit your hotel. You're being a fool if you think the hotel "security" will save you.
Speaking Spanish in Boca Chica, Dominican Republic
As a tourist, you're going to get ripped off in Boca Chica. It's basically part of the culture. If you don't speak Spanish, you'll get ripped off on every single transaction. If you do speak some Spanish, there's a chance you only get ripped off every now and then.
The best way to start learning Spanish is Rocket Spanish. This program is designed for self-learners looking to speak conversational Spanish within three months of studying. Overall, the programs works damn well and I was impressed.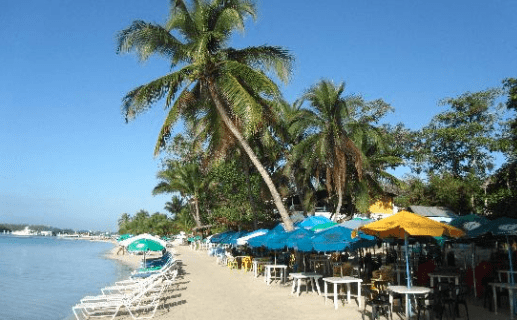 How to Meet Boca Chica Girls – Your Detailed City Guide
Overall, I wasn't a fan of Boca Chica. I don't enjoy spending time around working girls, so this wasn't a place for me to spend much time. If you like professional women, then the Boca Chica girls could be ideal.
Come to Boca Chica for a day and hang out at the beach. Don't invest much time here. There's much better cities to meet women in the Dominican Republic and there's definitely way better beaches than Boca Chica.
Still, if you want to meet normal girls here, then signing up for Dominican Cupid will give you the best shot at doing that!

(Visited 455 times, 1 visits today)
About the Author
Living and traveling around Latin America, Papi Chulo learned a thing or two about dating stunning Latinas. Now, he's sharing that information with the world. If you've ever wanted to meet stunning, exotic women - the time is now!